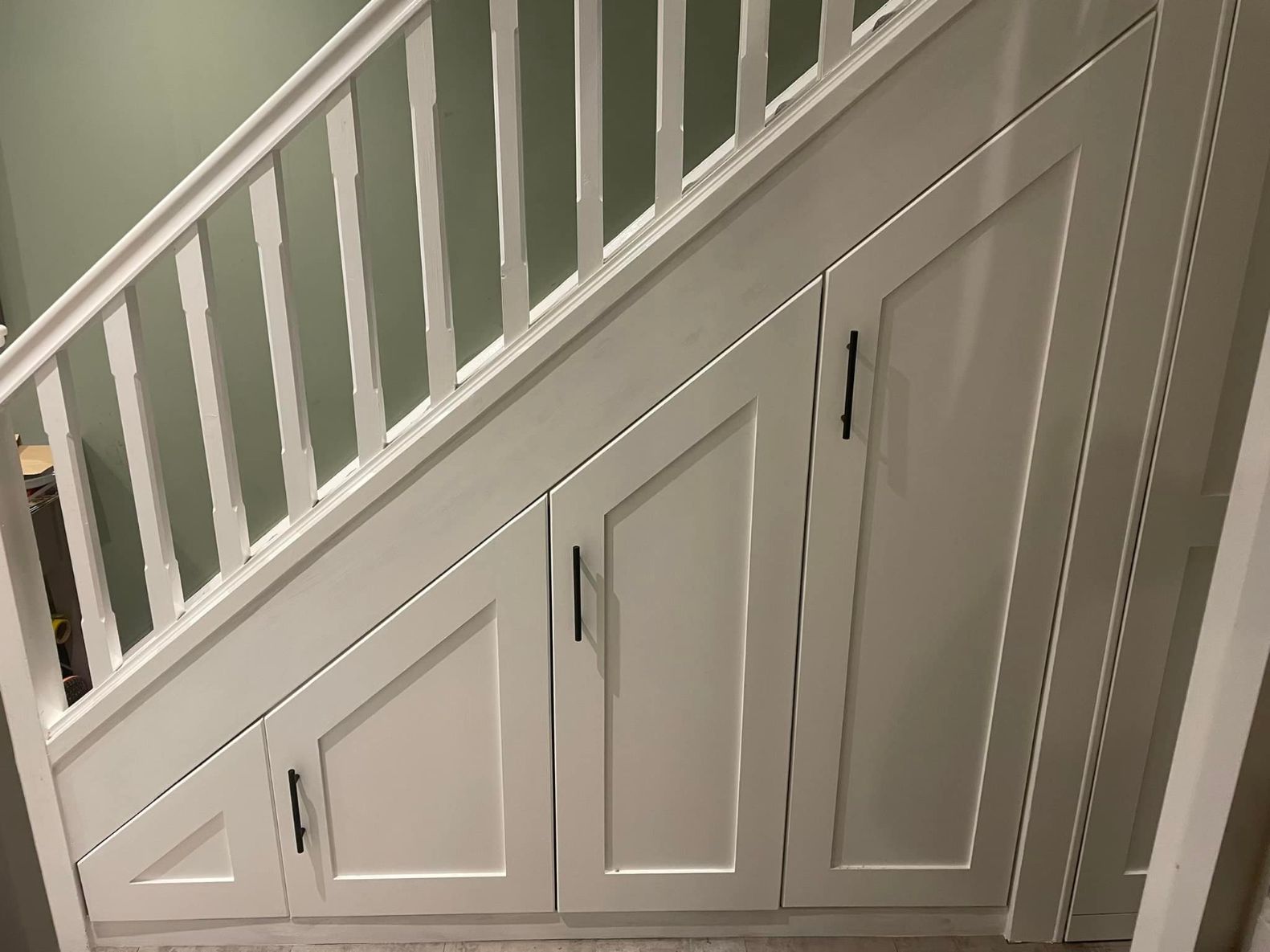 Bespoke Under Stair Storage Unit in Minehead, Taunton
This under stair storage unit we created for a property in Minehead offers a great way to utilise the space under your staircase.
The storage under the staircase is called the Spandrel. If there is not another flight of stairs immediately underneath, the triangular space underneath the stairs is called a "spandrel". It is frequently used as a closet and is a great way to create closed off storage solution.
It's important that you have attractive storage fitted under your stairs to completely transform your home.
With this area you can design a stunning feature that will allow you to solve any storage-related problems you may have.
If you're tired of traditional closet solutions, think about a made-to-measure storage solution that allows you to store anything from shoes to board games to kitchen appliances. This kind of storage space can be thought out and is more than just a functional accessory for your home.
You may always wanted to have an artistic display that doubles up as storage, or maybe you'd love to showcase your wine selection, bespoke joinery solutions can help transform your home and turn your dreams into a reality.
Why choose a custom made under stair storage solution
With custom-made shelving, you'll be able to guarantee that it looks beautiful and is completely to your liking.
If you're a fan of modern home decor, then you might want sleek, touch-release drawers.
If you want a more traditional look with these door handles you could go for a design that's more traditional or sleek for a modern look.
As your storage needs increase, custom storage cabinets also become available to you.
When your furniture needs some touch up or repair, a professional joiner can do the job right.
We create a range of custom designed and fitted under stair storage solutions designed to create which are clean and beautiful.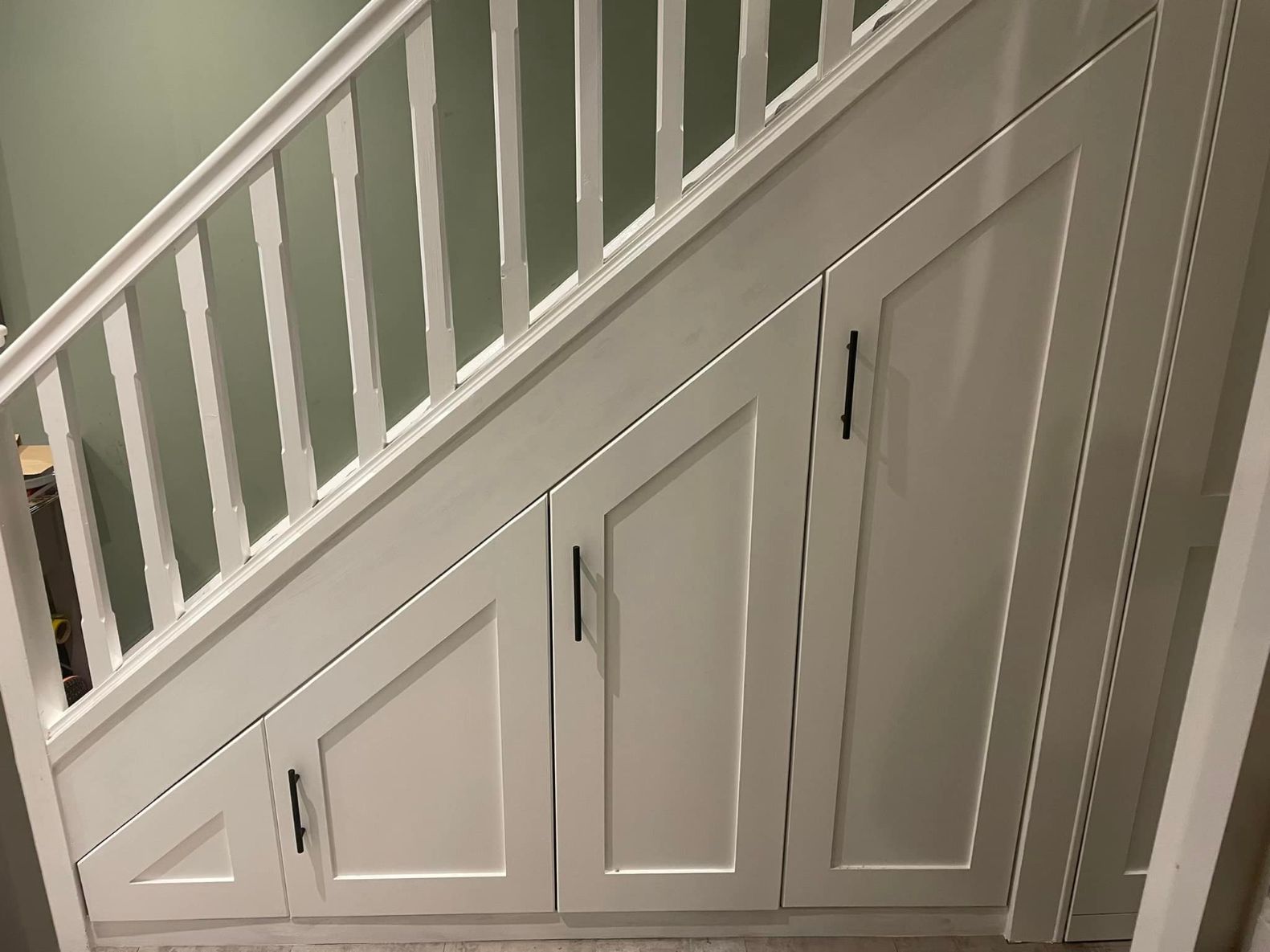 We create bespoke custom kitchens for your dream home
Kitchen fitting & design service in Minehead, Somerset
We have years of experience in designing kitchens we provide everything you need to create a new kitchen to fit the way you live. Our expert team will work with you to help you create a space that fits your lifestyle.
From
new bedrooms to fully fitted & designed kitchens

, we help you create your perfect home
Loft Conversion in Minehead, Taunton in Somerset
This custom designed and built loft conversion in Minehead, Taunton in Somerset included installing staircase, storage, laminate floors and bathroom with shower & toilet.
Kitchen Refit completed in Minehead, Somerset
This Kitchen Refit completed in Minehead, Somerset for a lovely customer involved us removing the kitchen window and creating a opening for access to the garden via patio doors.
Custom Kitchen Fitting near Taunton, Somerset
This custom kitchen fitting near Taunton, Somerset required us to knock through and fit steels to create a large open plan room.
Bespoke Under Stair Storage Unit in Minehead, Taunton
This under stair storage unit we created for a property in Minehead offers a great way to utilise the space under your staircase.
GRP Flat roof installation in Minehead, Somerset
GRP Flat roof installation in Minehead, Somerset. If you are looking to get an old flat roof, garage, loft, outbuilding, farm building or commercial building roof repaired or replaced we help you choose from a range of GRP Fibre Glass Roofing options to best suit your project.
New Roof Installation in Minehead, Somerset
Works on this home roof replacement included refelting, installing of new battens, repairs to exterior woodwork and new UPVC guttering fitted.
Loft Conversion in Watchet, Taunton in Somerset
A loft conversion is appealing as it makes use of 'dead' space to create an extra room, rather than eating into an outside area in the way of typical extensions.
Kitchen fitting in Watchet, Taunton in Somerset
A kitchen fitting or renovation can improve comfort in a number of ways; for example, better ventilation can help reduce the odors and heat that cooking in the kitchen produces.
GRP Flat Roof Installation in Wolverhampton
We work with companies to provide a range of GRP flat roof fibreglass roofing solutions for their clients. Our specialist skill in installing roofing and fibreglass solutions means we are often asked to work across the country.
Call Us Today
We can help you get your project off the ground and become a reality. Call us today so we can help you with your vision
What our customers say about
Coastal Building Services
We are proud to offer both a high quality and trusted service for our clients
"Thank you Coastal Building Services we are so happy with the end result, made to such a high standard. Would happily recommend to anyone looking for a great service from start to finish."
"Great service and great job and hassle free. Work done quickly and effectively. Friendly team always willing to help. Would definitely recommend."
"Coastal have just replaced our old outbuilding roof for a new GRP roof and extended it along our new adjoining log store. The whole process was a pleasure from start to finish! They all are a great bunch of guys, very professional, flexible and the quality of work is spot on. We couldn't be happier with what they have done. We would more than highly recommend! Thank you "
"Coastal Building Services completed a loft conversion and downstairs extension for us, they were extremely professional, hard working and reliable. We wouldn't hesitate in recommending them to anyone, you won't be disappointed."
Katherine Williams
Washford
"Coastal Building Services completed a large loft conversion for us. They were professional, reliable, kept in contact regularly and were always there to answer any questions. They were very knowledgeable on what would be best to do with the space and the advice they gave was very helpful to us. We are over the moon with our new space and grateful for their hard work. Would not hesitate to recommend them! A* work."
"Coastal replaced two flat felt roofs with fibreglass roofs as well and tidying up the facias, soffits and guttering to the front and back of the house and finally replacing a corrugated plastic roof over a patio area to the back of the house. All work was done to a high standard and both Ryan and Luke were friendly and tidy. Highly recommend."